There are hundreds of WordPress plugins available on GitHub. In the past, we showed you how to manually install plugins/themes from GitHub. Some of our users wanted to know if there was an easier way. In this article, we will show you how to easily find hundreds of WordPress plugins on GitHub.
Important: Unlike the official WordPress Plugin repository, there is no one manually approving plugins for inclusion in GitHub. Be careful when installing a plugin from GitHub and make sure that you only install plugins from trusted sources.
First thing you need to do is install and activate GitHub Plugin Search plugin. It works out of the box and there are no settings for you to configure. Simply go to Plugins » Add New and search for a plugin.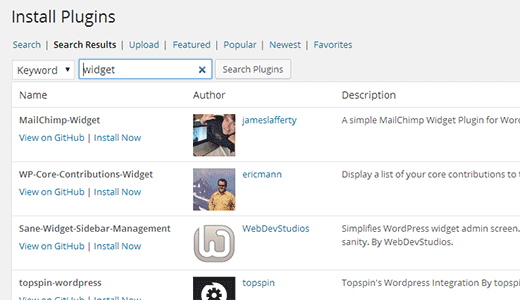 To install a plugin simply click on the Install Now link. If you want to learn more about a plugin, then click on View on GitHub link which will open the plugin's GihtHub page.
The Github Plugin Search replaces the default WordPress search feature. However, the official WordPress plugin repository has also a mirror on GitHub. This means that plugins from WordPress.org repository will also show up in the search results.
After installing this plugin, the favorites, newest, and featured tabs on the plugin install screen will not work. These tabs will show a default list of plugins from Github.
How To Get Updates for Plugins Installed from GitHub
By default, WordPress does not show updates for plugins installed from GitHub. Since it's always good to keep your plugins updated, we need to make sure you get updates.
You need to install and activate the Git Plugin Updates plugin.
Git Plugin Updates also works out of the box, and there are no settings for you to configure. It simply looks for the Git URL in plugin's header to check for updates. However, if a plugin does not have Git URL information in its header, then you will not see updates for the plugin.
We hope this article helped you find WordPress plugins on GitHub.
If you liked this article, then please subscribe to our YouTube Channel for WordPress video tutorials. You can also find us on Twitter and Google+.