Quizzes are a fun way to increase user engagement on your site. You can use it for educational purposes, or you can use it to get users addicted like BuzzFeed and others do to get social shares. If you want to add a quiz to your WordPress website, then you're in luck. In this article, we will show you how to easily create a quiz in WordPress.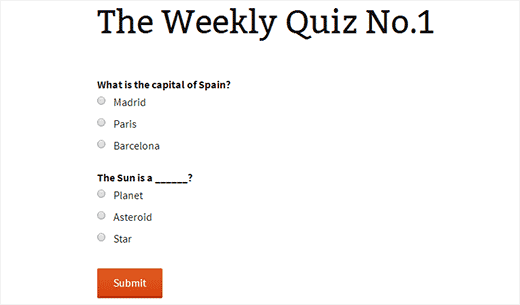 As the saying goes, there's a plugin for that. We're going to cover two of the best WordPress quiz plugins that will help you add a quiz to your site within minutes.
Creating a WordPress Quiz with Gravity Forms
Gravity Forms is the best form plugin in the market. One of the many awesome features of Gravity Forms is their quiz addon that allows you to create multiple quizzes along with giving you the grading options.
First thing you need to do is install and activate the Gravity Forms plugin. You will also need to download their Quiz Add-On which is only available with the developer license.
Here is a Gravity Forms coupon that will get you 25% off.
Once you have activated the plugin, go to Forms » Add-Ons screen and find the Quiz Add-On. Next simply click on the Install button.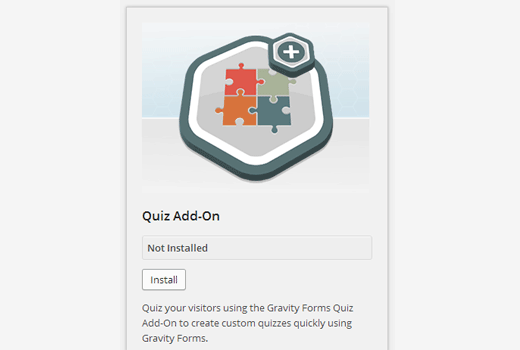 After installing the Quiz add-on, you are ready to create your first quiz. Start by creating a new form by going to Forms » New Form. You will be asked to provide a title and description for your form after which you will see the form editor screen.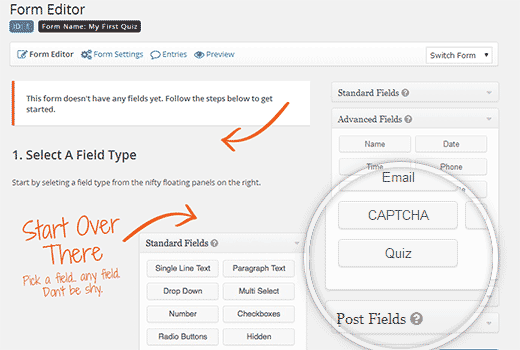 The form editor screen is divided into two sections. On your right, there are form fields that you can add to the form. On your left you have the form canvas. Click on the Advanced Fields tab to expand it, and then click on the Quiz button. This will add a Quiz field into your form.
Clicking anywhere on the quiz field will expand its properties. This is where you can edit the quiz question, add answer choices, and choose a quiz field type. Currently there are three quiz field types available, radio button, checkbox, and dropdown.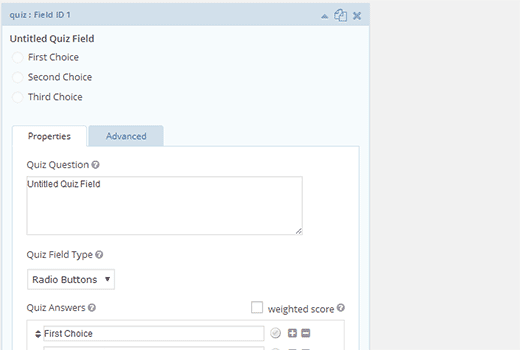 Once you have created a quiz question, you can repeat the process to add as many questions to your Quiz as you like. When you are done adding the questions, click on the Update Form button to save your form.
Automatically Grading Quizzes in Gravity Form
Grading is an essential part of any quiz, and Gravity forms make it really easy for you. If you want to set up automatic grading for your quiz, then click on the form settings button in the Gravity Forms menu. In the settings screen, you want to click on the Quiz tab.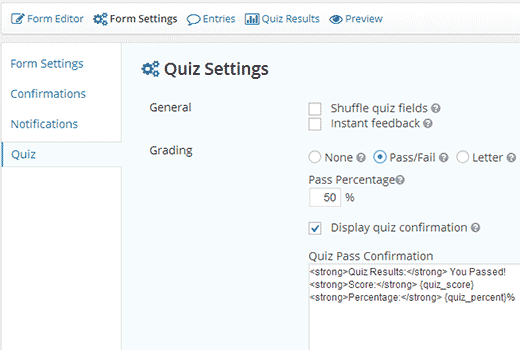 There are three types of grading options available for each quiz. The first option is No Grading. By choosing this option, you will disable grading for this quiz.
The second option is Pass/Fail which will allow you to set the percentage of correct answers required to pass the test. After finishing the quiz, users will be shown their results.
Last option is Letter grade, which allows you to set letter grading for the quiz. You can choose the percentile required to achieve a particular letter grade.
Once you have set up a grading system for your quiz, click on the Update Settings button to save these settings.
Adding The Gravity Form Quiz To a Post/Page in WordPress
Just like any other form created with Gravity Form, you can easily embed your quiz anywhere on your WordPress site. To add the quiz into a WordPress post or page, simply create a new post or edit an existing one.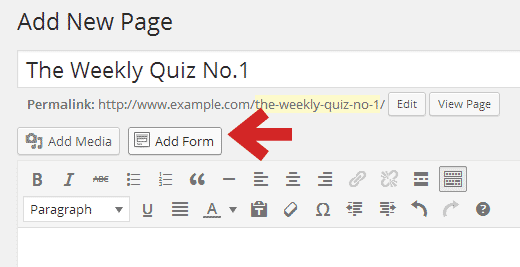 Click on the Add Form button above the post editor and then select the Quiz form you just created. You can choose to display form title and description if you want. After that simply click on the Insert Form button. You will see a gravity form shortcode inserted inside your post/page content. You can now update or publish this page to see the form in action.
Creating a Quiz in WordPress With Quiz Master Next
Since Gravity Forms is a paid plugin, we wanted to show a free alternative.
First thing you need to do is install and activate the Quiz Master Next plugin. Upon activation the plugin adds new menu item in your WordPress admin menu, called Quiz Dashboard. Clicking on it will show the quick statistics about quizzes on your site. Since you have just installed the plugin, there will be nothing to see at this time.
Lets create our first quiz. Start by going to Quiz Dashboard » Quizzes and click on the Create New Quiz button.
This will bring up a popup asking you to provide a name for your quiz. You can enter a title for your quiz and click on the Create Quiz button.
The plugin will now create your quiz, and you will be able to see it on the Quizzes screen. In order to edit the quiz and add questions to it, you need to click on the Edit link below the quiz title.
In the Quiz Editing area, you can add a question to your quiz by clicking on the Add Question button. This will bring up a popup where you can add your questions.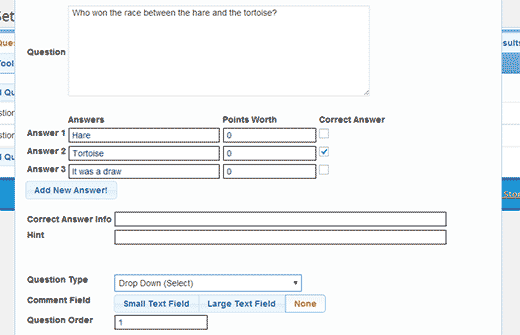 Click on the add answer button to add more answer choices for your question. Make sure that you check the correct answer box next to the correct choice.
There are multiple quiz question types available such as dropdown, multiple selection radio buttons and checkboxes, and the text area inputs. Once you are satisfied with your question, you need to click on the create question button. Repeat the process for all the questions you want to add to your quiz.
Grading Your Quiz
You can set up a grading system for your quiz by clicking on the quiz options tab. This tab contains comprehensive settings for your quiz. For grading, the available choices are Correct/Incorrect, Points, and Not graded.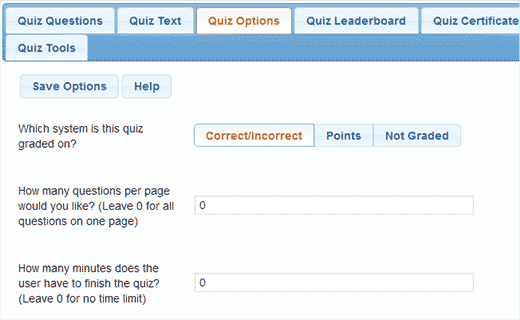 Review the other options on the page, and once you are finished save your settings.
Adding The Quiz to Your Posts/Pages
Each quiz created by the plugin can be embedded into any WordPress post or page using a shortcode. To obtain the shortcode, you need to visit Quiz Dashboard » Quizzes. There you will see the list of quizzes you have created so far.
Next to each quiz you will find the quiz shortcode which you need to copy and paste into your post or page.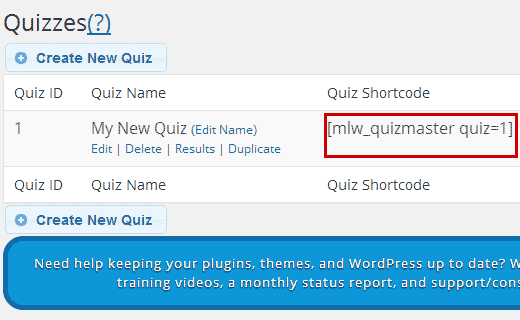 That's all, your WordPress quiz is now live and users can answer questions.
We hope this article helped you add a quiz to your WordPress site. Dig deeper into Gravity Forms or Quiz Master, and you will find more options to fine tune your quizzes and make them more interactive.
If you liked this article, then please subscribe to our YouTube Channel for WordPress video tutorials. You can also follow us on Google+ and Twitter.