You may have noticed that some popular sites show notices to their users on the front-end? A user can then click on the close button and the notice disappears. These notices can be used to make important announcements, show new features, or to simply greet new users. They can also be used to improve user engagement and experience on your site. In this article, we will show you how to display simple notices in WordPress.

Video Tutorial
If you don't like the video or need more instructions, then continue reading.
First thing you need to do is install and activate the Simple Notices plugin. Upon activation, the plugin will add a new menu item labeled "Notices" in your WordPress admin sidebar.
To display a new notice on your site, you need to add it from Notices » Add New screen. Adding a new notice is very similar to adding a new post in WordPress.
You can give your notice a title, and enter notification text in the post editor. You can use all the same formatting options available in the post editor and even add links in your notification text. Simple notices plugin allows you to choose between five colors for your notification area (blue, red, orange, green, and gray). You can also decide whether or not you want to show the notice to logged in users from 'Notice Configuration' meta box.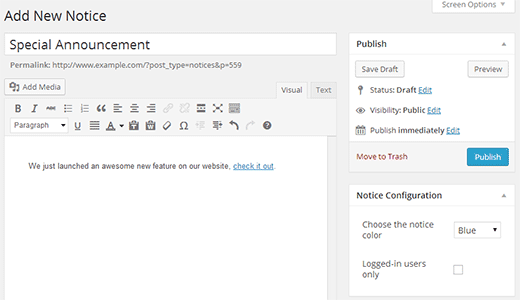 When you are satisfied with the notice, you can go ahead and publish it.
Once a notice is published, it will start appearing on your site. These notices are in a fixed position meaning it will float with the user as they scroll down your website. Users can click on the close button to close the notice, and they will not be shown the notice again. For logged-in users, the notification ID is stored in their user meta table, and for non-logged in users it is stored in a cookie.
That was pretty simple wasn't it? We hope this article helped you display simple notices on your WordPress site. To add announcement notices that automatically expire, you should try out the Ninja Announcements plugin.
For questions and feedback please leave a comment below or join us on Twitter.