If you often embed videos in WordPress, you are probably aware that it is fairly easy to do with built-in support for oEmbed. While videos add a lot of value to your content, you can further enhance the engagement by using this plugin that we learnt about recently called EmbedPlus. It automatically adds several extra features that can help you connect with your visitors and increase engagement such as video reactions, timed-text annotations, chaptering, etc. In this article, we will show you how you can utilize the free EmbedPlus plugin to the maximum.
Features
Before we show you how to setup this plugin, lets take a look at the features that it comes with:
Video Reactions (currently from Digg, Reddit, YouTube, and Twitter)
Timed-Text Annotations
Chaptering (custom and social)
Cropping (set start and stop times)
Instant Replay
Looping
Slow Motion
Movable Zoom
Here is a screenshot of how it looks: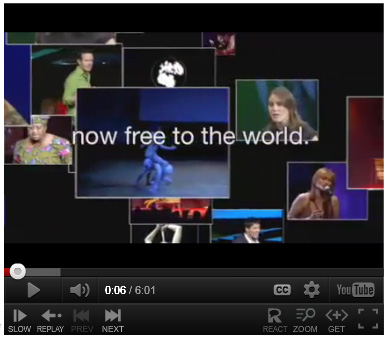 We'll focus on the first three features since they're perhaps the most novel ones. The others, like looping and slow motion, might not be common in web video players but are familiar DVD-like controls.
Video Reactions:
Videos tend to get good conversations on various platforms including Youtube, Reddit, Digg, Twitter etc. The sad thing is that a lot of your blog readers will never see these conversations. If you can take your blog reader and have them become a valuable member of your Youtube Channel, or your reddit presence, this can significantly help with your overall engagement. With the video reactions feature, you can show your visitors feedback from a number of very active communities on the web. Visitors simply click on the

button on the right side of the bottom control bar and these reactions automatically show up right from your blog. Further clicking on a community, like Reddit, exposes the activity on the corresponding site. We think it can be an attractive feature for blogs of any size that are looking to give users extra content. As this feature evolves, it would be interesting to see more from other communities to further engage your visitors.
Here are some screen shots leading to Reddit reactions for the highly discussed Avengers Assemble Trailer: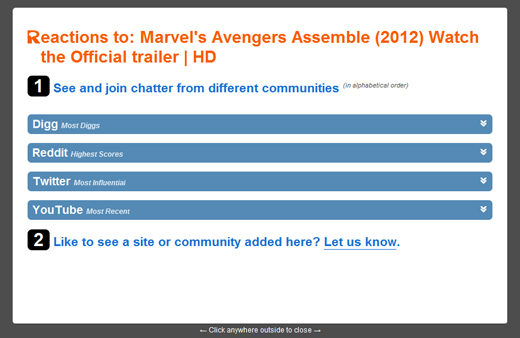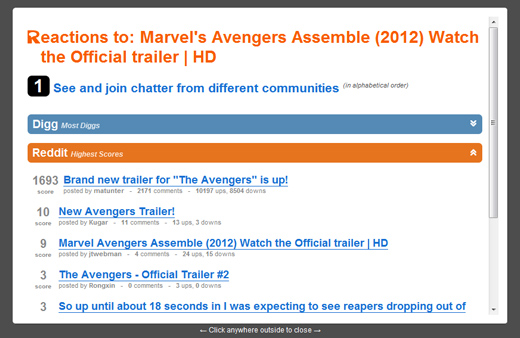 Timed-Text Annotations:
Timed-Text Annotations feature allows you to include text that will be displayed at set times during playback. This text can even include links to other pages (possibly on your blog) that may help your message. As you'll notice from the picture below, the annotations are displayed at the bottom of the player in order to avoid cluttering the video picture. While Youtube offers annotations, it clutters the video. Not to mention, if you are embedding videos that you do not own, you don't have any way to use the built-in Youtube annotations. So this is an alternative feature that some people might find very handy.
Chaptering:
Like annotations, the chaptering feature is a time-based feature. It works by allowing viewers to use the PREV/NEXT buttons to jump to marked scenes within the video. You could, for example, use it to mark parts of a video that you might focus on in a post. Each scene is associated with a number so you can specifically reference it in your post.
If you don't mark your own scenes, the player resorts to an algorithm we call Sweet Spot Marking. Simply put, it works by collecting social signals about a video and marks the approximate times of scenes with the most buzz. For highly discussed videos, this feature will often allow users to directly skip to the scenes getting the most attention. In addition, before each sweet spot starts, the player shows a visual cue ranking its buzz-worthiness in comparison to others that are found in the video (

→

→

→ … ).
Note that if you need visitors to only view a section of a video, we suggest using the separate cropping feature, which allows you to set playback start and stop times.
Setting up the plugin
Simply install and activate the EmbedPlus plugin. Upon activating it will then immediately enhance your existing YouTube embeds with the extra features as long as the video links are pasted on their own line in your blog editor (meaning you used the built-in oEmbed). To change this and other default behaviors, edit the preferences under "Settings » EmbedPlus" in the WordPress menu. As pictured below, the first of these is checked if you want the automatic upgrades in existing embeds. The other options activate reactions and Sweet Spot Marking.
The Wizard
Once you've setup the plugin, embedding a video with the enhanced features (but no customizations) only requires pasting its URL on its own line. Here's an example below:
To make customizations like marking scenes and inserting annotations, there is a wizard that takes you through the steps needed. Click the EmbedPlus button in the rich-text editor, highlighted below.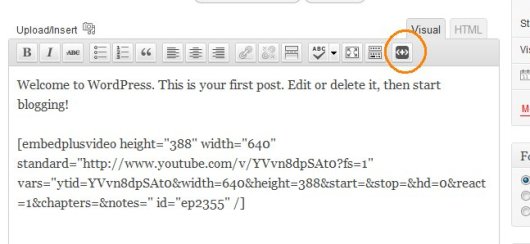 It first requests for the YouTube video URL that you want to customize before embedding, collects your preferences, and then gives you shortcode incorporating the settings for you to paste in the editor.
If you don't use the rich-text editor, a similar wizard can be found if you go to the "Settings » EmbedPlus" page and scroll down.
It is a very neat plugin for sites that uses youtube videos intensively.