iPage makes web hosting easy for budget-conscious website owners. Their simplified WordPress hosting plans are packed with plenty of features to grow your website. See our expert iPage review to decide if iPage is the right choice for you.
iPage offers feature-packed hosting plans for all kind of websites. If you are just starting out, then their shared plans can be an attractive option for you.
In this complete iPage review, we will go through their promises and test their hosting. These are the areas we will look into:
Reliability: Will your website be available to usersm24/7/365 without any downtime?
Performance: How fast will your website load on iPage?
Customer Support: Can you count on their customer support?
Features: Does iPage offer all the tools and features you will need to build your website?
Pricing: Do they offer the best pricing in the industry? Are there any iPage deals that can save you money?
Bottom Line: Want to skip the details? Let us summarize the review for you. We found iPage to be a fast, reliable, and customer friendly hosting company.
That's why we have chosen to recommend iPage as one of the best WordPress hosting companies.
Now let's dive into our detailed iPage review so that you can see for yourself how we reached that conclusion.
About iPage
iPage started in 1998 and steadily grew to become one of the top hosting companies. Today it powers over 1 million websites, and it is a well-known brand in WordPress hosting.
Pros and Cons of iPage
Before choosing a web host for your website, you may want to carefully review their pros and cons. Here are the pros and cons of iPage that we learned:
Pros
First, let's take a look at the advantages that make iPage the top choice.
Low cost plans: iPage offers one of the most low-cost shared hosting plans in the industry, which makes them great for newbies, personal websites, and small businesses.
Customer friendly: iPage offers a wide range of tools and services that help customers easily build their websites and grow their business.
$500 Worth of Extras: You will also get free Google AdWords and Bing credits, free YP.com listing, and Site Analytics Suite.
1-click WordPress Install: All plans include 1-click WordPress installation, unlimited databases, email accounts, storage, and bandwidth.
Cons
iPage is not without some disadvantages, here are a few that you may want to consider.
No cPanel: iPage doesn't support cPanel which is the most commonly used web hosting control panel used by most hosting companies. If you are used to the cPanel, then you may have a bit difficulty finding your way around.
No Monthly Billing: iPage doesn't offer monthly billing for any of their shared hosting plans. If you need monthly billing then you will have to upgrade to VPS, WordPress hosting, or Dedicated hosting plans.
iPage Performance
Finding a better hosting company is all about finding the perfect balance between pricing and performance. You don't want to end up with low cost hosting and poor performance.
That's why decided to run our own tests to properly measure the performance of iPage hosting.
iPage Speed Test Results
Speed is the most important indicator of a well-performing hosting service. No one, likes slower websites, even search engines punish slower websites and reward faster websites with higher rankings.
Studies suggest, that a single second delay in page load can cause 11% less conversion and 7% less page views. Users don't want to wait for a site to load when another site is just a few clicks away.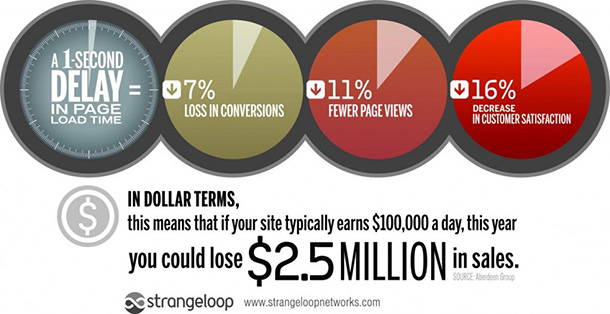 Your web hosting plays the most important role in your website's speed. If your host is slow, then no matter what you try on your website, your page load speed will remain below average.
That's why we decided to speed test by creating our own test site on iPage.
Our test site was powered by WordPress and used Twenty Seventeen theme. We also imported dummy content including images.
After that, we used Pingdom website speed testing tool to run our tests. You can see the results in the screenshot below:

According to Pingdom, our website loaded in less than 3 seconds and was faster than 60% of the websites tested.
We also decided to check how iPage will handle traffic spikes.
To do this we used a tool called LoadImpact. It gradually sends up to 100 users to a website and records the page load time.
You can see the results in the chart below: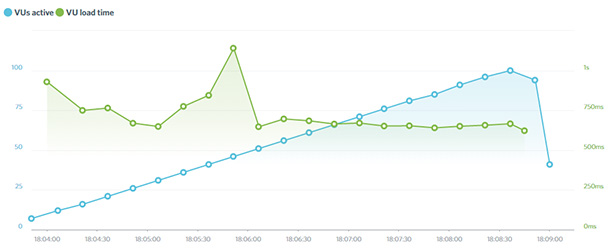 The green line in the chart represents page load time and the blue line shows the number of users on our site.
As you can see our test site became a bit slow when there were about 50 users on the site. After that it remained stable even though the number of users kept increasing.
That's good for a shared hosting server because you share resources with other accounts hosted on the same server. Those websites can also face traffic spikes at the same time as you do.
The good thing is that iPage remained stable and responsive through out the test.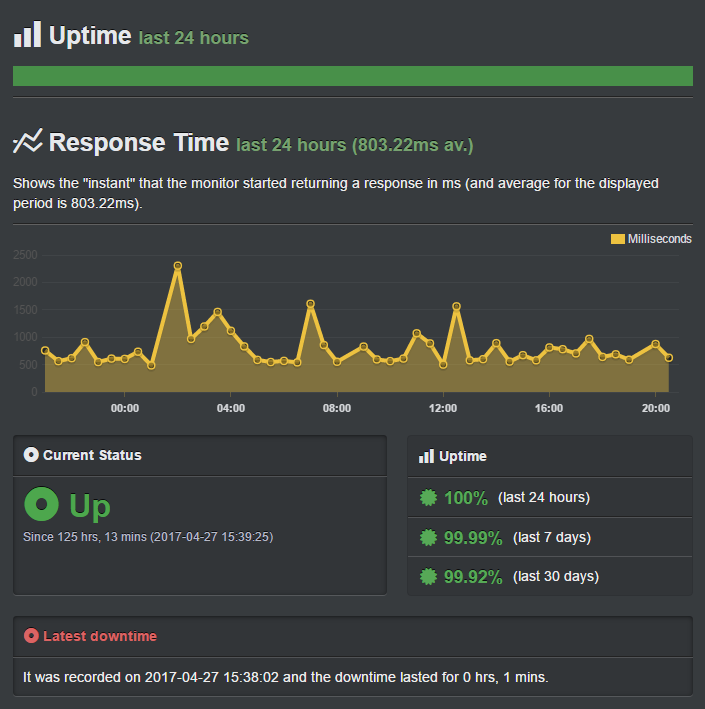 iPage Server Response Time
As you would know that content on your website affects its page load time. For example, if a page has many images, then it will load slowly.
This also means that a normal speed test result will not accurately show how fast a server responds.
To test this we used another tool called Bitcatcha. It is different than other website speed testing tools.
Instead of measuring entire page load time, it ignores the content and records the server response time. It does that multiple times from different locations around the world to get average results.
You can see the iPage server response time results in the screenshot below:
As you can see our test site responded in less than a second for all locations except Japan. If your target audience is located mainly in Japan, then you may want to look for a server closer to that region.
These tests show that iPage is quite fast and reliable for most parts of the world.
iPage Hosting Plans and Features
iPage's shared hosting plans are particularly attractive for beginners and new websites. However, they also offer VPS hosting, WordPress hosting, dedicated servers, and more.
Even if you want to start with a shared plan, it is good to know that you can upgrade your hosting plan as your website grows.
Shared hosting: Shared hosting is the perfect plan for new websites with low traffic. With shared hosting, your website will be sharing server resources with other websites hosted on the same server.
WordPress hosting: Similar to shared hosting plans, these plans are optimized for WordPress powered websites.
VPS hosting: An upgrade to shared hosting, VPS hosting allows you to share resources with multiple servers on a cloud architecture. This gives your website more room to grow.
Dedicated hosting: A whole server dedicated to your hosting needs. Dedicated hosting gives you powerful features and performance. It is suitable for high traffic websites or enterprise and large businesses. The downside is that you will have to manage the server yourself.
iPage's shared hosting plan is the most attractive option for starter websites and small businesses. It is one of the the most low-cost shared hosting plan in the industry and comes with a robust set of features.
iPage Support and Customer Service
We all need help now and then and its good to know that you can get quick help when you need it.
iPage offers 24/7 support via phone, live chat, and email. Apart from direct help, they also have a large knowledge base with articles, tutorials, videos, and guides.
For our iPage review, we contacted their support staff multiple times via live chat and asked them complicated questions. We found customer support to be knowledgeable, friendly, and willing to help.
We also sent them a few support emails and got response in few hours each time.
Overall, we found their customer support to be quick and very helpful.
Conclusion: Is iPage the Right Choice for You?
After reading all these details, you might be wondering if iPage is the right choice for your website?
iPage offers one of the most low-cost shared hosting plans. If you are just starting out with a small budget, then iPage can be a great starting point for your website.
They offer all the tools you will need to build your website with reliable and fast servers.
Ready to start your website with iPage? Click here to select your iPage plan.
iPage Coupon
WPBeginner users get an exclusive 83% off discount and a free domain with our iPage coupon code.
All you have to do is click on this link to purchase. The discount will be applied automatically.